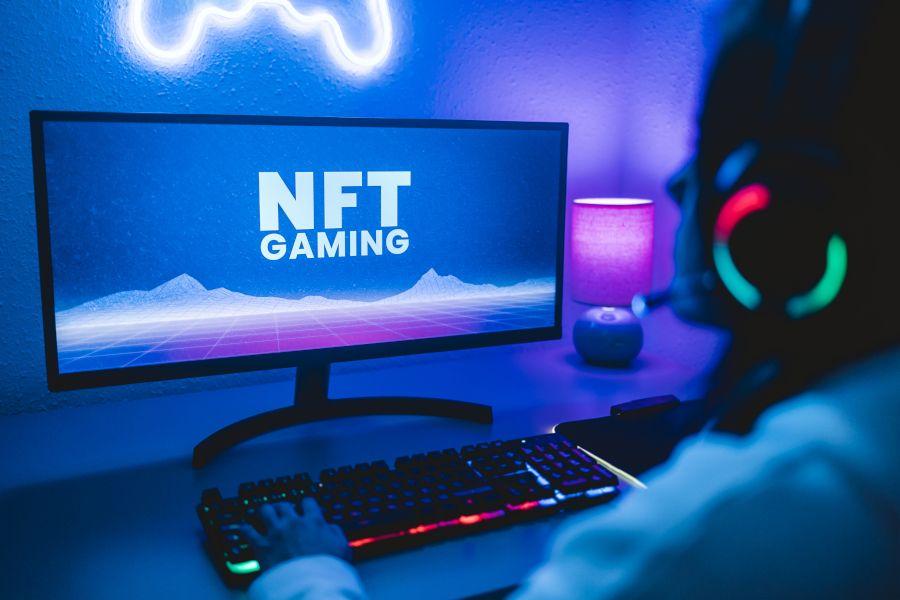 Despite the market downturn in 2022, more and more blockchain projects are coming online.
NFT.NYC 2023 featured experts, projects, companies, and the NFT community sharing insights on how this technology is transforming the digital world. The following are some highlights from the three-day event.
The Promising Growth of Blockchain Gaming
The future has arrived – the first wave of NFT-based gaming projects has arrived, opening the door to a world where reality and gaming blend seamlessly.
Over the course of the event, Cointelegraph sat down with industry leaders to discuss how this technology will impact the years ahead.
Innovative Co-Founder Matthew Liu, from Origin Protocol, predicts a world where virtual reality headsets, phones, and even new systems can all interact with the metaverse. He also discusses how users will start collecting more digital goods than physical goods, such as clothing or accessories, through NFTs.
Additionally, Alex Connolly, co-founder of Immutable, has observed a surge in competition in the gaming industry as numerous projects and developers endeavor to tackle blockchain-based issues, such as interoperability.
During NFT.NYC, some alpha games were released that showed promise. Nevertheless, game development is time-consuming and challenging, and developing high-quality games takes even longer.
Despite this, Connolly believes that we are witnessing some of the finest Web3 games ever created. He emphasizes the ability to own and trade in-game items as a particularly potent feature.
According to Linus Chung, VP of Product at Origin Protocol, companies looking to incorporate NFTs into their operations should address a critical issue that traditional methods cannot resolve.
He suggests that leveraging the benefits of acquiring crypto and using MetaMask wallets could help businesses engage their customers.
As demonstrated by the last bull market, offering rewards that surpass conventional means can motivate people to jump through the necessary hoops.
Increased NFT Utility: Real Estate
According to industry experts, NFTs are revolutionizing real estate investment by tokenizing assets.
Ripple, a fintech company, is leading the way, collaborating with other businesses to create real estate marketplaces and NFTs.
"Real estate is a major focus for us," says Ripple's VP of Strategy and Operations, Emi Yoshikawa. "It's a huge market, but also very illiquid and inefficient. We're partnering with companies to offer tokenized NFTs for real estate. Japan is at the forefront of this trend in Asia."
We have to dream big when it comes to NFTs – imagine being able to purchase a land or home with the assistance of an NFT to prove ownership.
We've already seen this type of use in various Web3 sites and games, where you can purchase a digital plot of land to do with as you wish. According to Parcel, over $1.4 billion went towards virtual real estate in 2022, upwards from the previous $0.5 billion in 2021.
By furthering this technology, we begin to scratch the surface of the potential NFTs hold in real-world scenarios.
If you're looking for profitable new investment opportunities, NFTs and real estate could be an unbeatable combination.
Pushing for Decentralization
Maxwell Lyman, CEO of Solon Labs, addressed the audience at NFT.NYC and highlighted a pressing concern – while many tokens, projects and blockchains tout decentralization, the reality is that their infrastructure relies heavily on centralized ecosystems.
This poses significant security and censorship risks. Lyman stated that while the back end of these protocols are decentralized, the front end is hosted on centralized servers such as AWS.
We still have some distance to cover before the space is fully decentralized.
Lyman suggests that NFTs could be the key to true decentralization. He predicts a future of "global personal capitalism" where anyone can own and profit from their personal information, activities and creations, made possible by the widespread use of nonfungible tokens.
NFT Regulation: An Uncertain Future
Legal experts addressing the event's panels emphasize the regulatory ambiguity surrounding NFTs, which parallels the wider crypto scene, especially within the US.
A pressing issue within this field is the derivative question about whether NFTs classify as securities.
Pantera Capital's chief compliance officer, Katrina Paglia, revealed that the venture firm closely monitors the Securities and Exchange Commission's recent enforcement actions to better understand regulators' perspectives on digital assets.
By scrutinizing these actions, Pantera Capital gains valuable insights into how the authorities interpret the Howey test.
However, the industry continues to pursue regulatory clarity, and until then, they rely on these actions to navigate the complex landscape of digital assets.
Final Thoughts
There's no doubt that NFTs are the future. Their versatility, utility, and adaptability is one to beat – and we're just getting started.